Dog friendly beaches, off leash areas and Dog Parks
Break O'Day Council aims to balance the expectations of dog owners and the community when we implement the Tasmanian Dog Control Act 2000 and its Dog Management Policy.
Dogs are the valued companions of many residents and visitors and we want you and your dog to be happy. Not everyone likes dogs all the time everywhere however.  Council must also protect community health, safety and amenity in public places and wildlife from harm.  Our beautiful environment is home to native wildlife and some threatened species, such as the hooded plover, a shorebird that nests on our beaches.
For these reasons Council's includes Declared Areas in its Dog Management Policy to balance the reasonable expectations of dog owners and the community walk and exercise dogs, whilst public health, safety and amenity are protected and wildlife are not unduly harmed.
You can view the map below to see where you can have dogs on and off-leash, where they are prohibited and were the off-leash exercise areas are.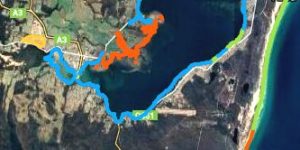 You can be prosecuted for having your dog in Declared Areas contrary to their requirements, those of the Policy or the Act.
Thank you for your cooperation.