Mountains to the Sea Trail-fest

The St Helens Mountain Bike Trails will officially open on Friday 22 November from 9am so grab your helmets!
We will be officially opening a the Bay of Fires Trail and more than 25km of loops at the St Helens Trailhead including four beginner loops, four intermediate trails, including two descents and the Townlink.  You can find out more by keeping an eye out on the St Helens Mountain Bike Trails website
We will be hosting official ribbon cutting ceremonies at:
11:30am Swimcart Beach for the Bay of Fires Trail
12:30pm Flagstaff Trailhead for the St Helens Stacked Loops.
Other things that are happening include:
Friday Night Social Ride 5.30pm Loila Tier
Rail berms and drink beers. Join the Pedal Heads for a Friday night social ride starting at Loila Tier ending at the Social for beers and great food.
Book early on Gravity Isle Shuttle to avoid FOMO.
Below image of The Social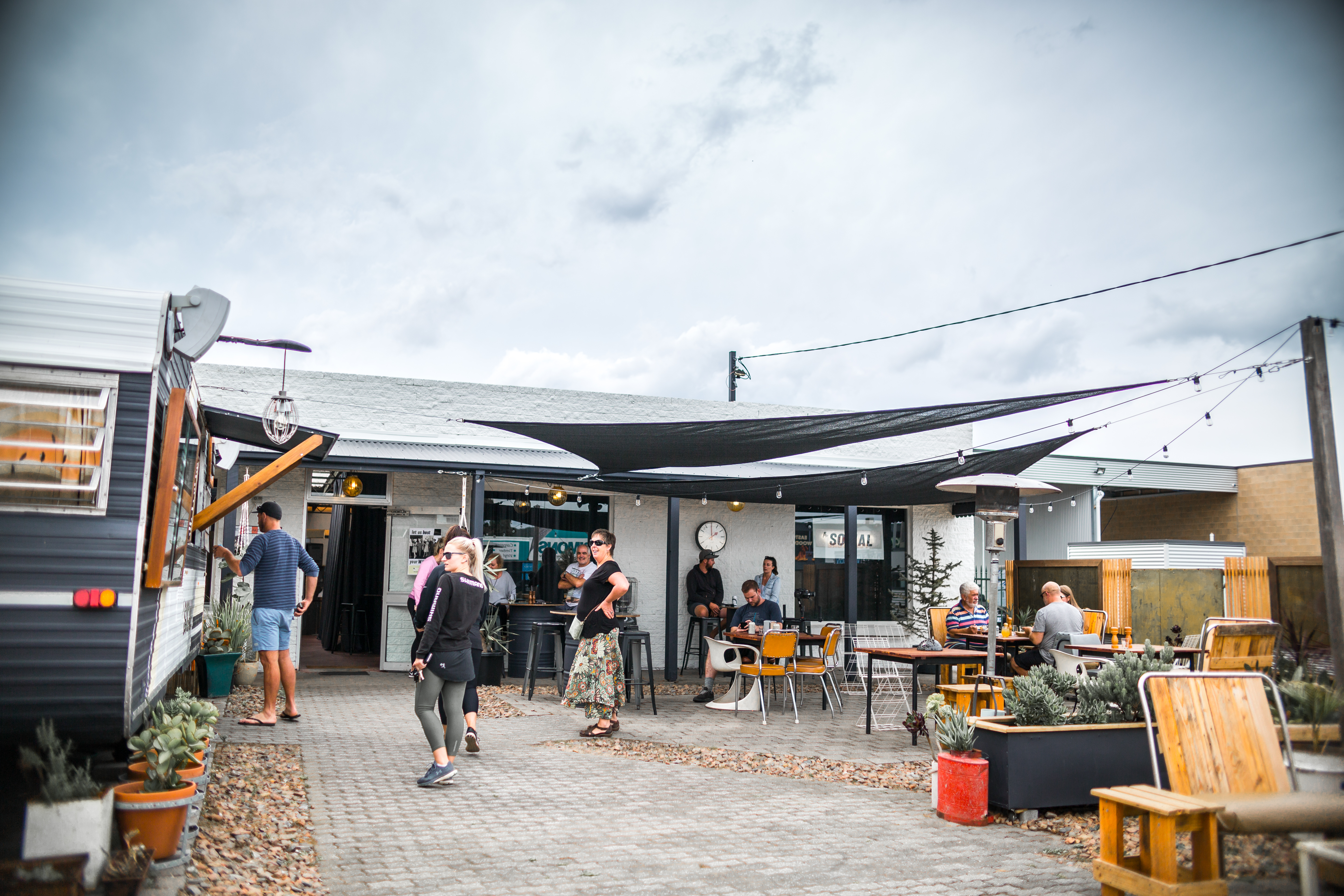 **Competition Time*
LJ Hooker St Helens is celebrating the opening of the St Helens Mountain Bike Trails by giving away a merchandise pack consisting of a T-shirt, Cap and Hoodie. To win simply like our page and share this post to go into the draw. Winner will be drawn on the official opening day of the trails – Friday 22nd November and notified by messenger.
Head to the LJ Hooker facebook page to enter: https://www.facebook.com/LJHookerStHelens/
We're celebrating the opening of the St Helens Mountain Bike Trails with an epic community event right in the centre of St Helens.
Once you've finished exploring and riding the trails, make sure you head into St Helens where you will find:
Family Hub @ the Foreshore
Shape and Ride – MTB Coaching
11am – 2pm
Shape & Ride is the largest mountain bike skills instruction operator in Tasmania; Christa and the crew will be hosting mountain bike skills advice and skills instruction services at the foreshore.  This includes FREE 30 minute mountain bike skills instructions sessions for kids of all ages and abilities using fun ramps and obstacles.  Sessions are at 11am, 12 noon and 1pm (parents can pre-book via the Shape and Ride Facebook page or on the day).  People can also swing by at anytime and have a private chat with or without their bike and gear and help be pointed in the right direction before getting into the new trails.
Free Community YOGA Session on the Foreshore
9am – 10am
Details TBA…
Chillax Hub – Main Street
Partial Road Closure – Cecilia Street, St Helens
Traffic Management Plan – Mountains to the Sea Trail Fest – Saturday 23 November 2019 – Cecilia Street
Extreme Bicycle Stunts – Borys Zagrocki
2pm – 5pm
Borys Zagrocki has been perfecting his extreme bicycle stunts for several years and has even been featured on Australia's Got Talent.
We feel privileged to have Borys performing as part of the opening for the St Helens Mountain Bike Trails and hope that you make the time to check out his skills, enthusiasm and unique brand of humour.
Borys will be setting up in Cecelia Street near Memorial Park, St Helens where he will be performing hair raising bike stunts. He will perform three performance times which will be advised on the day.
Sterling Heights Winery
Sterling Heights White Jade: produced  from estate grown Traminer, Pinot Gris and Schonberger
Sterling Heights Gamay Noir:  produced from estate grown Gamay de Beaujolais
Woodlands Cider: produced from estate grown apples
Bay of Fires Jams and Preserves: made from home grown fruit and vegetables.
Pretty Things
3-5pm
Famous on the east coast for their crowd pleasing, 'get you up and dancing' tunes, The Pretty Things will be playing in the main street from 3-5pm.
Come and pull up a grassy spot at memorial park where you can kick back and relax to some music after a tiring day on the trails.
Activities at the Flagstaff Trail Head 
Trail Shred Session
10am – 2pm PedalHeads inc will be at Flagstaff trail head providing the sweet jams, rad people to hang with between rides and best of all, competitions with some pretty sick loot as prizes. Need advice on which trail to ride? Just holler, we got that too!
Beginner Women's and Girls Information Session and Social Ride
A great opportunity for those brand new to mountain biking to come and learn what all the fuss is about with like minded women in a supportive environment. We will start the session with a chat about the trails, mountain bike etiquette and a few tips on riding. This will be followed by a Q&A session where you can ask all those things you have been wondering about such as is lycra really necessary, why can I only turn corners one way and what is it with those uncomfortable seats! Finally we will head off on a social ride at your own pace where we will separate into groups based on speed and skills. There will be a few women who are experienced at riding dotted amongst the ride to assist and advise newbies.   You don't need a great bike or technical gear and as far as skills go, if you rode a bike as a kid, you'll be surprised how smooth the transition into mountain biking is. So get in a amongst it …. before the men in your family relegate you to the shuttle driver!
Meet at Flagstaff Trail Head at 1pm for chat and practice
Social Ride starts at the Trail Head at 2pm

What's on at the BIG 4 St Helens Holiday Park
Friday 22nd
Happy Hour has been extended this week running from 5pm – 7pm
Finger food will be supplied just BYO drinks & meet us at the fire pit.
You will even get to sample our delicious wood fired pizzas as part of this weeks happy hour. YUM 😋
The Bunkhouse accommodation will also be open for inspection on the night.
If you would like to make a donation we are passing all proceeds onto MAKE. RUNS. MAXI. To date we have raised $566.85 for this amazing charity.
Saturday 23rd
Shuttle runs starting from 8am and running every 2 hours for our in house guests.
Saturday from 10am MTB Bunkhouse open to view & information available.
Saturday night from 5.30pm "enjoy an evening around the fire pit"
BBQ starting from 6pm hamburgers, sausages & vegie burgers available.
Nibbles provided
BYO drinks
Music during the night
A night of entertainment & food, we are requesting a donation which we will pass onto a local Tasmanian charity we are raising funds for Make. Runs. Maxi., which is a mental health charity.
Kick back & relax at the newest beer garden on the coast
THE SOCIAL will be serving vibrant street food, delicious local wines and an exclusive line up of Tassie craft beer.
The "Willie Smiths Cider" crew will also join the festivities with their cool outdoor "can bar".
Your local hosts will be pumping funky tunes all weekend so SEE YA THERE.
Nina Restaurant & Tapas Bar
Nina Restaurant & Tapas Bar will continue to celebrate the Grand Opening of Mountain Bike Trails in St Helens 🚵‍♀️🚵🏿‍♂️ on Saturday with an amazing voice of Jo King and her mix of indie pop, ballads and country rock.
Music starts from 5 pm.
Happy hour tapas and drinks 5-6 pm. Dinner from 6 pm.
It will be a fabulous day 💫💃🏻🕺🍷🥂🍻 🎸 🎤
Please, call 0474 420 005, 0476 916 979 to make a booking