Visit Us
The Break O'Day municipality extends along the East Coast of Tasmania from Mt William National Park and Eddystone Point in the north to Denison Rivulet in the south and west over the eastern portion of the Fingal Valley. Our region includes a diverse range of scenery and townships from the arty and creative hub of St Marys, historic townships like Fingal, Mathinna and Weldborough, farming communities like Pyengana and Goshen to the coastal towns and hamlets such as Falmouth, Scamander, Beaumaris, Binalong Bay and St Helens – the Game Fishing capital of Tasmania.
If you are unsure what you would like to do or where to start head to the St Helens Visitor Information Centre, services offered include:
• Free information
• Booking service: accommodation, attractions, tours
• Maps and brochures
• National Parks Passes
• Parks passes
• Souvenirs
• Toilets close by
• Free parking on site and close by
Open Hours are:
Monday to Friday: 
9am – 4pm (available by phone and email until 4:30pm)
Saturday and Sunday:
9am to 3:30pm (available by phone and email until 4:30pm)
Public Holidays:
ANZAC Day -1pm – 3:30om
Closed – Good Friday and Christmas Day
Located at 61 Cecilia Street, St Helens, behind the Library and opposite the Post Office.
Email: sthelensvic@bodc.tas.gov.au
Phone: 63761744

Mountain Biking
The St Helens Mountain Bike Trails are some of the most scenic trails in the world- where else in the world can you ride Mountains to the Sea, ending your ride in one of the most beautiful beaches in the world, the Bay of Fires.
The St Helens Mountain Bike Trails are located in two unique locations; You will find a series of stacked loops just south of the St Helens Township as well as an epic 42km wilderness trail that starts sat the top of the Blue Tier and winds and wends all the way to Swimcart beach found in the internationally acclaimed Bay of Fires. That makes plenty of quality built trail for you and your family to enjoy!
Whether you like to shred some serious downhill, enjoy some cross country flow or just want a fun day on the trails with the family, the St Helens Mountain Bike Trails have an experience for everyone. Not only that, but St Helens is the largest town on Tasmania's east coast and as such offers plenty for you to see and do while you are taking a break from the trails.
Click here for more about the St Helens Mountain Bike Trails.
Break O'Day Council are also proud to be joint owners of the Blue Derby Mountain Bike Trails along with our neighbouring Council, Dorset.
We are responsible for three trails in the Blue Derby Network which are located 40 mins from St Helens in the Weldborough and Blue Tier area. One of these is considered to be the jewel in the Blue Derby crown, the Blue Tier Descent. Click here to see a video of the trail from Flow Mountain Bike magazine.
This trail has received worldwide coverage for its scenic beauty as well as the fact that it finishes at the Weldborough Pub.
Also in the area are two of the other Blue Derby Trails, Big Chook and Little Chook.
You can find out all you need to know about these trails and more on the Ride Blue Derby website.
We are also in the process of developing and constructing a stacked loop and descent network just south of St Helens as well as a 40+km epic which will be a spectacular descent from the top of the Blue Tier all the way to Swimcart Beach, part of the Bay of Fires.
Motorsports
If revving engines are more your thing, the area of Mathinna is a popular spot to get off road and offers some great 4WD and dirt bike options. Just drop in to the local pub for some tips and information or check out more 4WD tracks in the area here.
There are also regular dune buggy races that take place at Peron Dunes.
Get on the Water
If water activities are more your thing you will find plenty of options for on water activities and plenty of areas to get access to the water. You will find boat ramps at Ansons Bay, Binalong Bay, St Helens and Scamander as well as plenty of beach access for smaller craft like kayaks. There are also tourism operators in the area that can show you some of the areas spectacular scenery from the water.
Gone fishing
With fishing a popular past time for locals and visitors alike, you will certainly be spoilt for choice in Break O'Day for the types of fishing you can do, from surf to fly fishing and jetty to game fishing as well as the range of fish you can catch from shark to swordfish, flat head and bream and even cray and shell fish not to mention squid and prawns at the right time of the year. With so many locations and options on offer, just keep an eye on where the locals are headed!
From the mountains to the sea, the Break O'Day region is abundant in natural attractions, activities and development opportunities.
Walks and Waterfalls
The forests and bushlands in our area are diverse and include everything from emerald green rainforests, towering mountain forests and open woodlands to lagoons and wetlands and coastal heathlands.
There are plenty of walks to do around our area and we would recommend you dropping by our Visitor Information Centre or doing your own research using the quick links section below.
Here are our top areas to explore
The Blue Tier
The Blue Tier doesn't just have one of the best mountain bike trails in the world, it offers some amazing walking tracks as well. Sitting 600m above sea level, the Blue Tier offers some amazing vistas all the way to the east coast, some magical rainforest landscapes and a rich history. There is a wide selection of walking trails to suit the casual day trip or the more dedicated hiker. Some of the more popular include the Golblin Forest Walk, the Big Tree Walk, as well as the more challenging waslks like Australia Hill and the Three notch Track. You can find out more here.
Evercreech Falls and the White Knights
Located in the Fingal Valley near Mathinna are the tallest white gums in the world, the 'White Knights', as well as the nearby Evercreech Falls.
The perfect spot for a picnic with BBQ facilities right by the creek, both walks, to the White Knights and the Falls are not difficult and worth a look. You can find some more information here.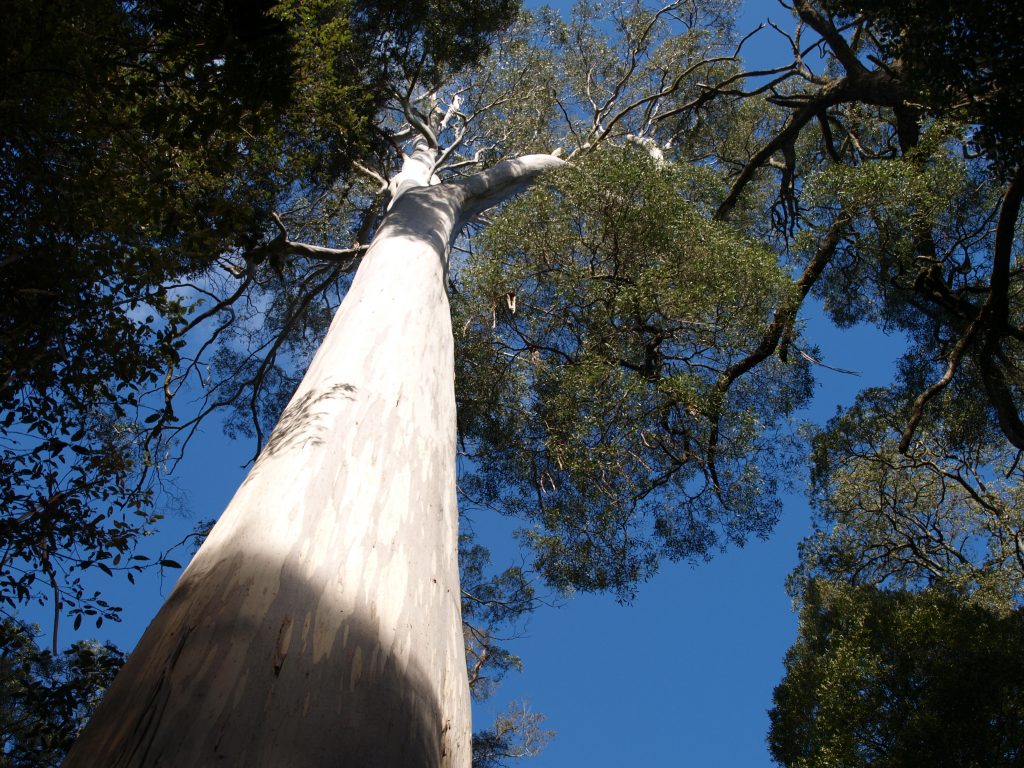 St Columba Falls
Located 40 minutes drive from St Helens and passing through the dairy capital of the area, Pyengana, St Columba Falls is a an easy 20 – 30 minute return walk.
The falls are one of Tasmania's highest at 90 metres high and are at their most spectacular after a good rainfall. You can find more information here.
Halls Falls
Located just over 20 minutes drive from St Helens, Halls Falls is a truly spectacular place as it features twin falls flowing in to a peaceful, tree fern lined rockpool. It is a lovely spot to escape the summer sun and enjoy a quiet picnic. It is an easy but in parts steep walk down to the falls so make sure you wear some good shoes. You can find some more information here.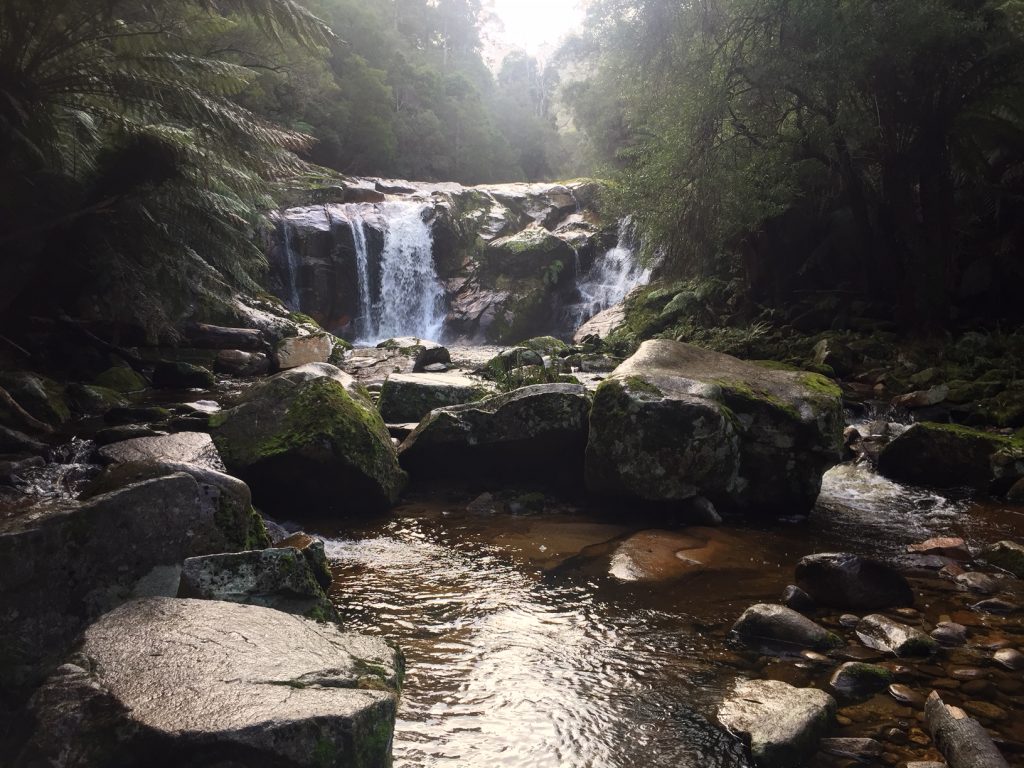 Paddys Head
If you are driving to the East Coast via St Marys you will spot a pyramid shaped hill behind the township, this is St Patricks Head, or Paddys Head.
This is a challenging walk and will take around 3hours return as it climbs steeply to 683m above sea level, but once at the top, the 360 degree views across the Fingal Valley and north and south up the east coast make it all worthwhile. You can find a directions to Paddys Head here:
Mt William National Park
The main National Park in our area is the Mount William National Park. Home to the Eddystone Point Lighthouse, the Bay of Fires Walk and some amazing camping grounds, Mount William is certainly worth a visit. You can find plenty of information including activities in the area on the Parks and Wildlife website.
For more things to see and do in our area you can visit the Great Eastern Drive web page or drop in to our Visitor Information Centre at 61 Cecilia Street, St Helens. Or shoot them an email to sthelensvic@bodc.tas.gov.au
You really are spoilt for choice when it comes to beaches on the East Coast of Tasmania and some of the best are right here in Break O'Day.
We have several coastal townships on the coastline from Denison Beach in the South to Eddystone Point in the North. These include Seymour in the south, Four Mile Creek, Falmouth, Scamander, Beaumaris, St Helens, Binalong Bay and Ansons Bay near Eddystone Point.
The following gives you just a taste of some of the beach areas in our area as we really do recommend you just explore for yourself.
larapuna/Bay of Fires
Each beach has something different to offer from the pristine white sands and clear azure waters of the Bay of Fires which includes Binalong Bay, the Gardens and Eddystone Point.
This area is easy to explore with plenty of places to access the beach and even free camp sites that at the beach edge north from Binalong Bay to The Gardens, including, Swimcart, Cosy Corner, Sloop Lagoon and more.
Whether you are looking for a nice walk, some fishing or just to relax on the beach, the Bay of Fires has it all.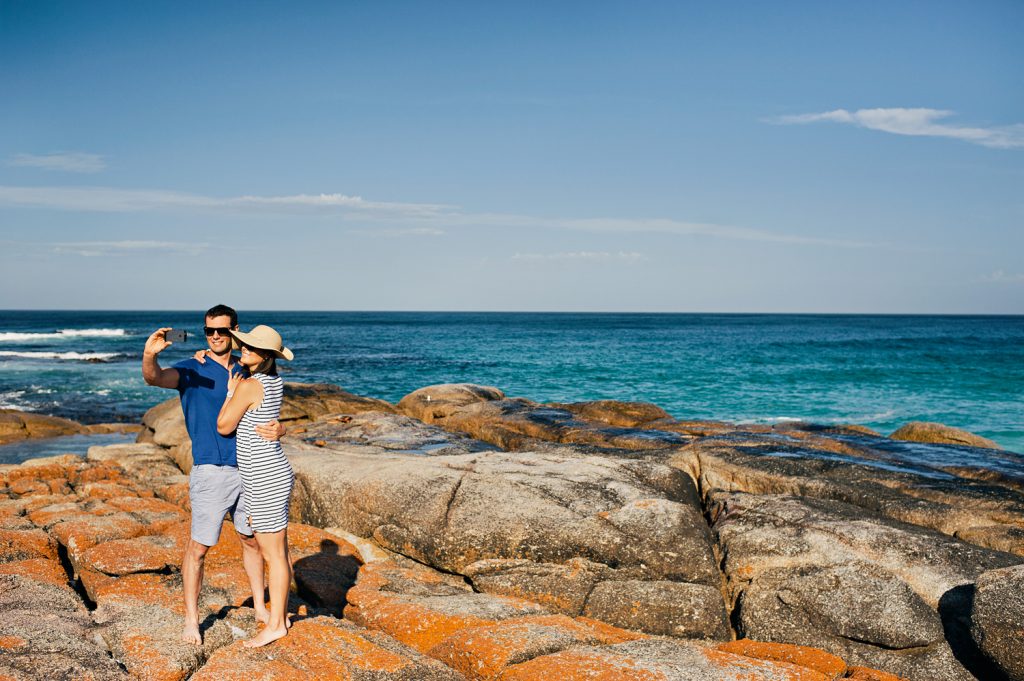 Binalong Bay
Perhaps the most famous beach in the Bay of Fires, Binalong Bay is also a small coastal village. Binalong Bay provides access to not just the famous beach but Grants Lagoon and other secret coves. It has a boat ramp and a restaurant overlooking Binalong Bay. There are also numerous walks in the area including Skeleton Bay, Dora Point and Humbug point.
Scamander and Beaumaris
The Scamander and Beaumaris coast is popular with the local surfers and often has good breaks and also offers lots of rewarding surf fishing opportunities.
The Scamander River mouth is a popular beach access where the shoals of the river mouth often provide a great spot for swimming in the middle of Scamander township.
This area also provides a great spot for kayaking and fishing on Scamander River and Henderson Lagoon. The Scamander River is well known as a bream fishing mecca and some beauties can be caught from the river mouth right to the top of the estuary.
St Helens
The main town ship on the East Coast, St Helens, is located on Georges Bay and provides plenty of places to hit the sand and sea.
A shared use pedestrian cycle way follows Georges Bay foreshore from the turn off to St Helens Point and can be followed all the way around to the main township passing playgrounds and the popular Beauty Bay on the way.
Beauty Bay is a great place to stop as it offers a sheltered grassy area with BBQ ,fishing jetty and toilets with outdoor shower.
Heading out on the St Helens Point you will pass through bayside settlements of Parnella, Steiglitz and Akaroa to perfect beach spots to visit and enjoy. There is a nature playground and BBQ right at the St Helens Point Road turn off and another with BBQ shelter further around near the Steiglitz boat ramp.
Keep following St Helens Point Road and you can access the beautiful Peron Dunes. There are some nice walks you can do through the dunes but they do also offer some adventure with a section where off-road vehicles are permitted. Peron Dunes hosts the annual Tasmanian Sand Enduro race over the November long weekend, and if you are in the area it is certainly worth watching from one of the high dunes.
Right at the end of St Helens Point Road you will find the Burns Bay Boat Ramp and access to Beerbarrel beach. This beach can also offer some good surf breaks but is just as popular as a place to relax.
Eddystone Point and Ansons Bay
The lighthouse at Eddystone Point can be seen looking north from The Gardens and stands 18 metres high. While it is not open to the public, it is still a great spot to explore with plenty of places to access the rocky shores and long beaches in the area.
Just south of Eddystone Point, Ansons Bay is Break O'Days northern most coastal town and is a popular spot for fishing and camping with areas like Policemans Point a popular spot for camping and exploring the coastal environment.
St Helens History Room
The History Room is part of the St Helens Visitor Information Centre and has an amazing display of the areas local history from indigenous artefacts to Maritime and our tin mining history. Check out their website here.
Open Hours are:
Monday to Friday: 
9am – 4pm (available by phone and email until 4:30pm)
Saturday and Sunday:
9am to 3:30pm (available by phone and email until 4:30pm)
Public Holidays:
ANZAC Day -1pm – 3:30om
Closed – Good Friday and Christmas Day
Located at 61 Cecilia Street, St Helens, behind the Library and opposite the Post Office.
Ph: 03 63761479 or 0419 731 452
Email: historyroom@bodc.tas.gov.au
St Marys Cranks and Tinkerers Museum
Located in the Old Railway building in St Marys, this quirky museum is filled with train and mining memorabilia, vintage cameras, model ships, matchbox cars, local history and much much more. You can check out their Facebook page here.
Open Monday – Friday from 10am -4pm
Located at
St Marys Railway Station, Esk Main Road, St Marys, Tasmania
Phone: 0417 648 845
Email: iansummers50@yahoo.com.au
The St Helens Visitor Information Centre offers friendly and helpful advice on where to go and what to see in our area. They have maps, brochures and can even help you book some activities while in the area.
You will also see a number of information displays throughout the area, just look for the big yellow 'i', which offer maps and information on features of the specific area.
You can find the St Helens Visitor Information Centre here
Or you can give them a call on 03) 6376 1744 or email them StHelensVisitor.InformationCentre@bodc.tas.gov.au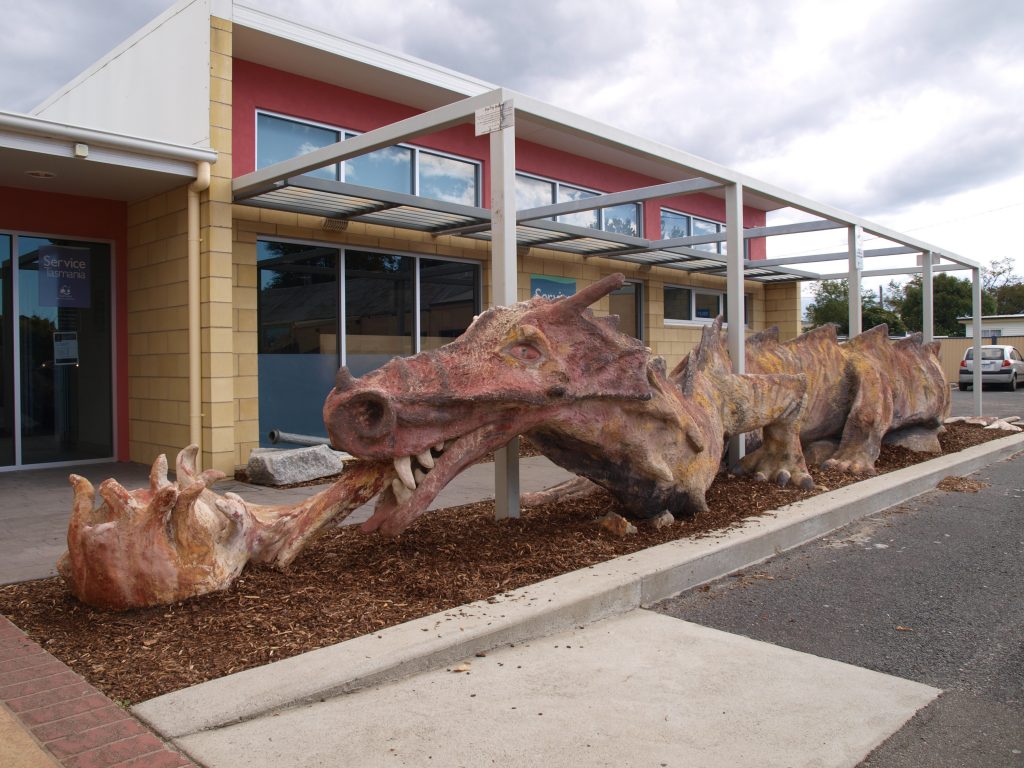 We may be biased but we think we are lucky enough to live in one of the most beautiful locations in the world. Not only are we home to the internationally acclaimed larapuna/Bay of Fires, we also have a range of forest walks, waterfalls and even some of the best mountain bike riding in the world right here on our doorstep.
Our area offers a diverse range of fresh, local produce including wines, cheese and of course seafood which can be found served at many of our local eateries.
Throughout the year our area hosts a number of events including the Bay of Fires Winter Arts Festival, the St Helens Game Fishing Classic, the St Helens Regatta and more.
You can find out more about all of the above using the quick links below.
Apart from the many free camping spots in our area in both coastal and bush settings there is also a number of caravan parks, hotels and short stay accommodation options. Here are a few links to inspire you to stay and explore our area.
You can also check out these sites, or drop in to our Visitor Information Centre.
There are a range of restaurants, cafes and local eateries to explore in our area as well as farmgate style produce including berries, fruit, cheese, wine and seafood. In fact our region is well known for its award winning cheeses and fresh seafood.
You can find some information on where to eat and drink while in our area from;
Or check out one of these sites for more places to enjoy the amazing produce in our area.