Wellbeing

Wellbeing is feeling good, being good and doing good. It is our ability to live well and function effectively while navigating the ups and downs of life.
Our three-year Community Wellbeing Pilot Project in Break O'Day is helping people learn about wellbeing and how to create it for themselves and others.
UPDATE – 30 August 2021
The Break O'Day Community Wellbeing Project is well underway. This year's group in the wellbeing training are creating wellbeing projects across our community. You may have come across their activities already. They are eager to share the good things are learning about supporting wellbeing with as many people as possible.
On Saturday 9 October a Festival of Wellbeing at the Bendigo Bank Stadium in St Helens will share wellbeing tips and give you a chance to learn and try new things that can support your wellbeing. There will be something for everyone and free transport from Fingal. This event is being created by community members and anyone can get involved.
Expressions of Interest are open now until 12 September for ideas and contributions to make the day a local celebration of wellbeing. Find out more and register your interest here Festival Of Wellbeing – Expression Of Interest
UPDATE – 22 June 2021
A summary report of the Community Wellbeing Conversations held early this year, is now available. Common themes of people looking after each other and building or celebrating connections emerged from your stories and ideas. You told us you love the friendly people in Break O'Day and your natural surroundings. And you hope to find more ways to connect and support each other.
Community Conversations Report Wellbeing Project May 2021
UPDATE – 28 April 2021
In 2019 Council was grateful to gain funding from the Tasmanian Community Fund for a 3-year pilot project to support communities across the Break O'Day municipality to build connections, foster resilience and enhance wellbeing.
During March this year council hosted the first series of Wellbeing Conversations across Break O'Day attended by over 100 people. At these conversations you told us things you love about where you live, and your hopes for yourself and your community. We heard many inspiring stories. Time and again the common themes were people looking after each other, and building or celebrating connections.
It is clear that across Break O'Day, in all our communities, people are creating and building wellbeing. This project will give everyone more ways to enhance the wonderful things you are already doing in your community, and create opportunities to support more people to improve their own wellbeing too.
For the next three years, local people will have the opportunity to take part in wellbeing training founded on positive thinking. They will use their new skills and tools to create projects with their community, or to enrich activities already happening. Our first class of students are well on their way to gaining their Certificate in Creating Wellbeing.
Thinking positively is not about feeling good all the time. It is about making a choice to notice and savour positive feelings when they do happen. And it is about creating moments for positive feelings to happen.
When we experience a positive feeling we find it easier to navigate challenges and solve problems. One thing you can try is being kinder to yourself. Next time you find yourself in a time of struggle, try talking to yourself as you would speak to a very dear friend who needs kind words of wisdom. Self-Compassion is a gift we can all give ourselves.
Put simply, wellbeing is feeling good, being good and doing good.
We also know that wellbeing means different things to different people.
We all have skills, knowledge and experience to be wellbeing experts in our lives. And we can all deepen our understanding and learn more skills and tools to enhance our wellbeing and the wellbeing of those around us.
What is community wellbeing?
"Community wellbeing is the combination of social, economic, environmental, cultural, and political conditions identified by individuals and their communities
as essential for them to flourish and fulfil their potential." Wiseman and Brasher.
When we develop a shared language of wellbeing as a community, we can support each other to enhance our wellbeing collectively.
Our relationships and communities are fundamentally important to our health and happiness. Our approach will cultivate community champions to lead wellbeing outcomes with, and within, their social networks and communities.
What is mental health?
Mental health is simply the health of our minds, and like any other part of our body, our minds can feel well or unwell. Just as you need to take care of your heart, or your back, you need to look after the health of your mind. Being mentally well is not simply a lack of mental illness. It is a state of feeling, coping and performing well. The World Health Organisation defines mental health as follows.
"a state of well-being in which the individual realises [their] own abilities, can cope with the normal stresses of life, can work productively and fruitfully, and is able to make a contribution to [their] community" (World Health Organization, 2003).
What is mental illness?
Approximately one in every 5 Australians aged between the ages of 16 and 85 will experience a mental illness each year (Black Dog Institute, 2020). Approximately 45% of all Australians experiencing a mental illness during their lifetime.
The Australian Department of Health defines a mental illness as:
"a health problem that significantly affects how a person feels, thinks, behaves, and interacts with other people. It is diagnosed according to standardised criteria" (Australian Government Department of Health, 2020).
Common forms of mental illness in Australia include anxiety, depression and substance abuse. Approximately 54% of people with mental illness do not seek any form of treatment (Australian Institute of Health and Welfare, 2014).
Communities can play a role in promoting and supporting good mental health and providing support for each other to nurture wellbeing.
What is positive psychology?
Psychology has historically focussed on understanding the struggles of people's minds and the mental processes that lead to problems and how to fix them.
A Positive Psychology approach to wellbeing looks beyond moments of crisis and is founded on a holistic approach of helping people recognise and use their strengths to navigate challenges and lead a full and meaningful life.
Martin Seligman, often referred to as the founder of Positive Psychology, describes it as
"the scientific study of optimal human functioning that aims to discover and promote the factors that allow individuals and communities to thrive."
Positive psychology provides ways to help individuals and communities improve wellbeing. If you are interested in learning more, this 5-minute video provides a simple overview.
What is the PERMAH Framework?
The PERMAH Model of Wellbeing has been used to teach people and communities to promote and enable wellbeing through Positive Psychology approaches. The PERMAH survey tool helps people to measure and track their wellbeing, and provides resources and tips to take small, supported steps towards enhancing wellbeing.

The Break O'Day Community Wellbeing Project is creating opportunities for our community to come together to learn about and practice wellbeing, and take shared actions to improve wellbeing. Working together using our strengths and a positive psychology approach, we aim to co-create a more connected, resilient and flourishing community.
CONNECT – Warm and positive connections to each other, engaged in our activities and the world around us.

BE RESILIENT – Being empowered to adapt to life's challenges and take advantage of opportunities.

FLOURISH – Feeling good, achieving good things for ourselves and others, and knowing how and why.
Over three years, we will invite, encourage and support our community to participate in meaningful conversations about wellbeing. To learn about wellbeing and positive psychology approaches to enhancing wellbeing. Together we will co-create community wellbeing projects and collaborate on improving community wellbeing and resilience.
People in our community will learn and practice PERMAH approaches for themselves, for those around them and in their local communities. Through tiny steps and small changes we aim to create a tipping point where wellbeing behaviours are valued, understood, celebrated, shared and sustained.
Break O'Day Council is committed to fostering a diverse and thriving community, a place of opportunity, where everyone feels safe, welcome and connected. We are taking an innovative, holistic, and preventative approach to nurturing wellbeing that can complement valued programs already supporting people in Break O'Day with their mental health. We aim to energise our community positively and proactively to help them build skills to cultivate their own and others' wellbeing in ways that work for them.
Break O'Day Council has been funded by the Tasmanian Community Fund to do this work and lead the way for other councils in the future. The Project is coordinated by Council's Mental Health and Wellbeing Coordinator and supported by an Advisory Team of positive psychology and wellbeing experts and a Wellbeing Collaborative of local community members.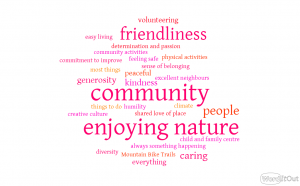 Each year a series of Community Wellbeing Conversations invite community members to share their thoughts and aspirations for wellbeing and to learn new language, tools and strategies for improving wellbeing.
Community wellbeing conversations are an opportunity for you to share with us, and others, what wellbeing means for you, how you do it and what you would like to see in our community to enhance wellbeing.
It is a way to connect to other people in your community and to learn more about creating wellbeing for yourself and others.
These conversations are fun, interactive and have you walking away feeling positive about our community and inspired to make a difference.
Our first report into the community conversations held in early 2021 is available now.
For more information on upcoming dates and times, check our latest news tab on this page or visit our Facebook page at facebook.com/groups/1871662273003112
We are working with The Wellbeing Lab, founded by Dr Michelle McQuaid. The Wellbeing Lab defines wellbeing as,
"… the ability to feel good and function effectively as we navigate the inevitable highs and lows of…  life" (The Wellbeing Lab, 2020).
Each year 30 people have the opportunity to undertake a Certificate in Creating Wellbeing from The Wellbeing Lab and perform wellbeing actions for themselves and in their community.
The Certificate recipients will learn how to create wellbeing personally and within our community. Over 3 months, they will gain skills, resources and support to develop their own wellbeing initiatives that meet the needs of our community.
For more information, please visit the wellbeing lab certificate bodc
Each year the Certificate recipients will create 'Community Impact Projects' together with their local community, to activate or strengthen wellbeing across Break O'Day.
For more information, check back here and on our latest news tab on this page. Or visit our Facebook page at facebook.com/groups/1871662273003112
A celebration of all things wellbeing created by local community members for our local communities. Supported by Break O'DAy COuncil, the Tasmanian Community Fund and the Mental Health Council of Tasmania.
Celebrate what you love about living in Break O'Day and discover new ways to look after your wellbeing and the wellbeing of those around you.
2021 is the first year for this new event. The Festival is all about Wellbeing Conversations. The Festival team are hosting a wellbeing space in one of our amazing community venues. A space to create connections and awareness. To inspire and generate conversations in our community about wellbeing.
A showcase of what is available in our community to support and improve individual and community wellbeing. A space to open a conversation, "show and tell" or encourage others to "come and try".
Free bus leaves Fingal IGA at 9am and returns from Festival leaving at 4pm.
Festival Program available now Festival Map and Program FINAL
The festival is inclusive, accessible and COVID safe – there will be processes that need to be followed, restrictions on some activity types, and controls around social distancing and numbers at the event at any one time.
The theme for Mental Health Week in Tasmania in 2021 is Awareness, Belonging, Connection.
The ABC of the Festival for community and conversations is
Awareness – get curious and uncover the people, places and support available in our community – you only have to ask
Belonging – you are one of us, we are strong, there is strength in our community – you only have to ask
Connection – you are seen, heard, and valued. Our community is amazing, let's talk about how we can make it even better
In October 2022, Break O'Day will host an Appreciate Inquiry Summit to showcase wellbeing initiatives from our community and beyond.
More to come…
Facebook group
Join the Wellbeing Project facebook group to stay up to date facebook.com/groups/1871662273003112
Wellbeing Collaborative
Would you like to…?
Create a vibe! Inspire and encourage community interest and engagement in growing wellbeing.
Connect people! Help grow and nurture community connections.
Love local! Ensure local communities and contexts are at the heart of growing wellbeing.
Get involved! Provide support for wellbeing. initiatives, activities and the wellbeing project work.
Know & Share! Understand the wellbeing project and advocate for the approach.
To find out how you can get involved or tell us how we can connect with you, contact Leah on 6376 7945 or 0439 826 491 or leah.page@bodc.tas.gov.au
The Community Wellbeing Project has been funded by: