News
Rotary Club of St Helens
ABN 32 845 750 955
PO Box 360 St Helens TAS 7216
President: Stephen Jones
Background:
The Rotary Club of St Helens is making a small number of community grants available to not for profit organisations, to a maximum value of $5,000 per grant.
Criteria:
Not for profit organisations within the Break O'Day municipality are eligible to apply for a grant.  The membership of the Rotary Club of St Helens will consider each application on its merits, and will determine the allocation of funds.
Application is to be made to the Rotary Club of St Helens, PO Box 360 St Helens 7216 by 31st May 2021.
A total program amount must be shown on the application, and quotes attached where appropriate. Grant funding is intended for specific community projects, and is not intended to cover salaries and wages.
Payment to successful applicants will be made on the provision of an invoice.
On Sunday May 2 Break O'Day Council, members from Youth Collective North East Coast Tasmania (YCNECT), Scooter Stop Hobart and young people who planned SCAM-JAM over the past year, partnered with the Tasmanian Government and Youth Network of Tasmania (YNOT) to deliver SCAMJAM at the St Marys Community Space – Skate Park.
The event was well attended with 80+ community members and 30 boys and girls who competed in three different age groups showing off their best 90 second routines and tricks, utilising as much of the park as possible for additional points.
Every single participant and young person attending won a voucher that they could spend onsite at the Scooter Stop merchandise tent. There were over $1,000 worth of prizes and giveaways, as well as four Pro Scooters who put on Scooter demo's for our community.
A free BBQ was supplied cooked for all attendees and of course plenty of water for hydration.
YNOT supplied us with a survey for the young people to complete around events in Tasmania for Youth Week and with 50% of those who attended completing the survey, 100% said they would attend again, 80% said they heard about SCAMJAM via word of mouth and the two best things that meant the most to them at the event was the free food and prizes.
Some suggestions for next year were, more competitors, more prizes, more people and more Pro Scooter Demos.
From an Organisers perspective, it was pleasing to see that there were 5 young girls who were confident enough to also enter the competition against their male opposition, with one young girl coming second in the Under 12's Scooter competition, with a skate board!
To all the partners below:
Tasmanian Government
Youth Collective North East Coast Tasmania
Thank you 🙂
Did you know that almost 1 in 20 Tasmanian women have experienced violence? Or that 17% of Tasmanian women have experienced sexual
harassment? Even more worrying than these stats is that on average in Australia, one woman is killed every week by a current or former partner.
This is not good enough and we all must do more.
Break O'Day Council will not tolerate domestic violence in our community.
Domestic violence is defined by the Australian Government as including:
behaviour or threats that aim to control a partner by causing fear or threatening their safety.
Domestic and family violence can include:
• hitting;
• choking;
• denying essential money to the partner or family;
• isolating the partner from friends and family;
• insulting or constantly criticising the partner;
• forcing the partner to have sex; and
• threatening children or pets.
If you or someone you know is affected by domestic violence, they are not alone and there are a range of support services available to help. You can find information and links to support services at www.staysafefromviolence.tas.gov.au.
We have also included some
quick link phone numbers below.
• If you are in immediate danger, Call the Police on 000
 
Support services include:
• Safe at Home Family Violence Response – 1800 633 937
• 1800RESPECT (1800 737 732)
• Men's Referral service to counsel men who use family violence –
1300 766 491
• LifeLine: 131114
• Kids Help Line: 1800 551 800
Written by Karen Palmer, 10 April 2021
PhD Student, Climate Futures, School of Geography, Planning, and Spatial Sciences, University of Tasmania
I am a PhD student at the University of Tasmania, and I am fascinated by the movement of tides within coastal bays and estuaries. Recently my small team of researchers visited St Helens to install instruments to study water currents and water levels within Georges Bay. The aim of the research is to better understand the different factors that influence water levels from day to day and month to month.
The trip could not have come at a better time. We managed to deploy instruments right before the March 25th rainfall event, capturing an insight into how water level in between the land and sea responds when there are multiple factors in play.
This nationally significant weather event brought a large drop in atmospheric pressure, there were sustained strong winds which then switched direction. There was intense rainfall in the Georges Bay catchment area, and there was large swell and approaching spring tides at the ocean boundary. All of these factors contribute to the peak water level observed both within the coastal lagoon and further up the tributary rivers.
In addition to instruments deployed for a few days during our trip, tide gauges were installed in several locations in Georges Bay which will monitor water levels for up to 12 months. Supported by the Tasmanian SES, the tide gauges will provide the first scientific quality water levels recorded simultaneously at multiple sites and help to improve SES flood modelling for the area. Flooding, as readers will know, regularly affects the low-lying river delta between St Helens and Binalong Bay causing road closures, property damage, and water quality issues.
Georges Bay is naturally a dynamic environment and like many estuaries worldwide, modified to facilitate safer shipping and by farming and resource extraction in the floodplain and catchment. Without monitoring the effects of modifications and environmental changes – especially climate change, it is difficult to anticipate the exposure of social, environmental, and economic values in the region to changing threats.
I hope that my research will not only help to improve future flood forecasting and planning, but also provide valuable local information for maritime safety, recreational water users, and environmental management. I am delighted to work alongside the dedicated team at SES, to hear the experience of local experts, and to spend time in such an extraordinarily beautiful place as Georges Bay.
To those who came to say hello and ask what we were doing, thank you for your interest. I look forward to sharing the outcomes of this research with the Break O' Day community.
Project supported by Tasmanian SES, Commonwealth PhD Scholarship, and Assoc Prof Hannah Power from the School of Environmental and Life Sciences, University of Newcastle.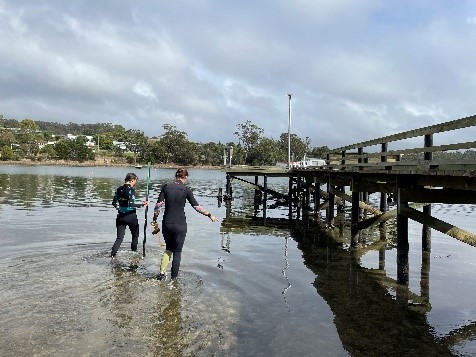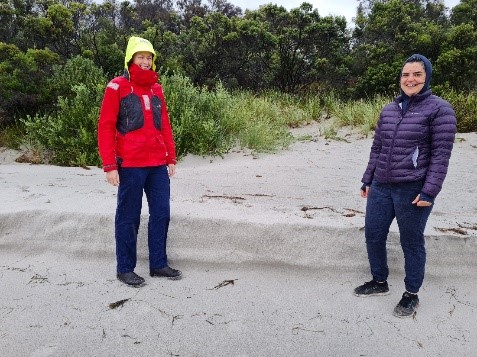 Images from top to bottom:  Assoc Prof Hannah Power and project leader Karen Palmer setting up short term instruments at Parkside jetty (Photo: HN). Centre – Hannah Power and fieldwork assistant Haleh Nampak checking equipment at Dora Point in the rain (Photo: KP). Right – Karen Palmer measuring the height of a water level instrument (Photo HN).
The Community Funding Program provides grants to communities to improve facilities/programs in their township or to improve the overall amenity of their town. All community groups that represent the ratepayers of their community are eligible to apply for funding.
Projects that will be considered for funding but not necessarily restricted to:
• Beautification projects
• Projects to improve or construct recreation facilities
• Projects that will improve the amenity of the township/community
Community Funding Grant Application form 2020-2021 FINAL
For more information or to apply for funding, please download the form below and return it by either dropping it into the main office at 32-34 Georges Bay Esplanade, St Helens, or email erica.mckinnell@bodc.tas.gov.au
UPDATED 8 March 2021
Works were on hold over the Easter Break so there were no disruptions to Easter Holiday traffic.
Works on the new Scamander Bridge will commence on Monday, 12 April and continue for approximately 3 weeks on the East side of the bridge.
Once the East side of the bridge is complete, the bridge demolition will begin, working concurrently with the west side handrail installation on the new bridge.
The Demolition is anticipated to take 2 months, with an end date of works to be mid July.
Frequently Asked Questions – Scamander River Bridge
For information on the Council decision regrading keeping and maintaining the bridge see below FAQ
Did you know that Break O'Day Council has developed Kindness Cards?
We'd like to give our community a simple way to connect with neighbours and strengthen social connections in our area so we have developed Kindness Cards.
These can be used by anyone anytime and are a way to offer your support to those in our community that might be struggling at the moment.
Perhaps you know someone in your street who you think could do with some help but you are unsure how to approach them. The Kindness cards give you a way to offer help and support in a way that is subtle. All you have do to do is fill in one of the cards and place it in their letter box.
This is not something new, kindness cards have been used all over Australia with great success and many users of the cards have reported that the cards helped build lasting friendships and ease feelings of isolation.
Kindness benefits both the receiver and the giver and has been shown to improve physical and mental health outcomes for all involved, it's like a smile, a little bit of kindness can go a long way.
If you would like to send some Kindness Cards you can collect them during business hours from the main Council Office at 32-34 Georges Bay Esplanade, St Helens.
Kindness Cards Flyer      Kindness Cards FAQ   
COVID-19 – Use of Council Facilities
Facility Hirers – already booked and holding the events
Given the current situation of COVID-19 and the risk of spreading the virus locally, we ask that you consider if your event or hall booking can wait until a later date. If your event is to proceed, then particular attention needs to be given to personal hygiene measures like providing easy access to hand sanitiser.
Facility Hirers – not yet booked
 Given the current situation of COVID-19 and the risk of spreading the virus locally, we ask that you consider if your event or hall booking can wait until a later date and review personal hygiene measures like providing easy access to hand sanitiser.
Sporting Clubs – Using Council facilities
At this stage, we ask that you adhere to the advice of your State or National sporting body in regards to training and playing organised sport within a Council facility.
*The recommendations around the virus are changing on a day-to-day basis, bearing this in mind, Council will reserve the right to cancel events on or in our facilities if we feel there is a risk to the greater community.
Download a copy of our 2019- 2020 Rates Newsletter here.Rates Newsletter 2020
Looking for events in our area? Click here.