Current Works
UPDATED 31 March

After the Easter holidays we will start pavement works on St Helens Point Road between the Talbot Street junction and Cunningham Street junction for a distance of 400m.
Works will involve milling and increasing the depth of the existing pavement, recompaction, followed by resealing and line marking.
The sealing Contractor has advised that milling machinery will become available for these works starting 17 Aril 2023 (subject to weather). Civil works will take approximately 14 days to complete. Line marking is subject to the availability of line marking contractor.
Traffic Control will be implemented for the duration of the project with the speed limit reduced from 60km/hr to 40km/hr. There will be periods of short delays to motorists as traffic flow will be reduced to one lane, and we thank the community in advance for their patience.
UPDATED: 9 January 2023
Background
This year  we will start works on the next stage of the St Helens Streetscape works. You can see the design document below
We have currently scheduled these works to commence after Easter and anticipate that they will take approximately six to eight weeks to complete.
The area of works will be located on the eastern side of Cecelia Street (the main street) starting at the BP Service Station and ending at the Cecilia Street and Georges Bay Esplanade intersection.
The plan includes  realignment of the intersection. We are still finalising parts of this design with State Growth (the managers of the main street).  Once this has been finalised updated intersection plans will be made available.
*Concept drawings only and some detail may vary as the project progresses
Engagement Activities
Staff have spoken with affected businesses who will also receive a formal letter.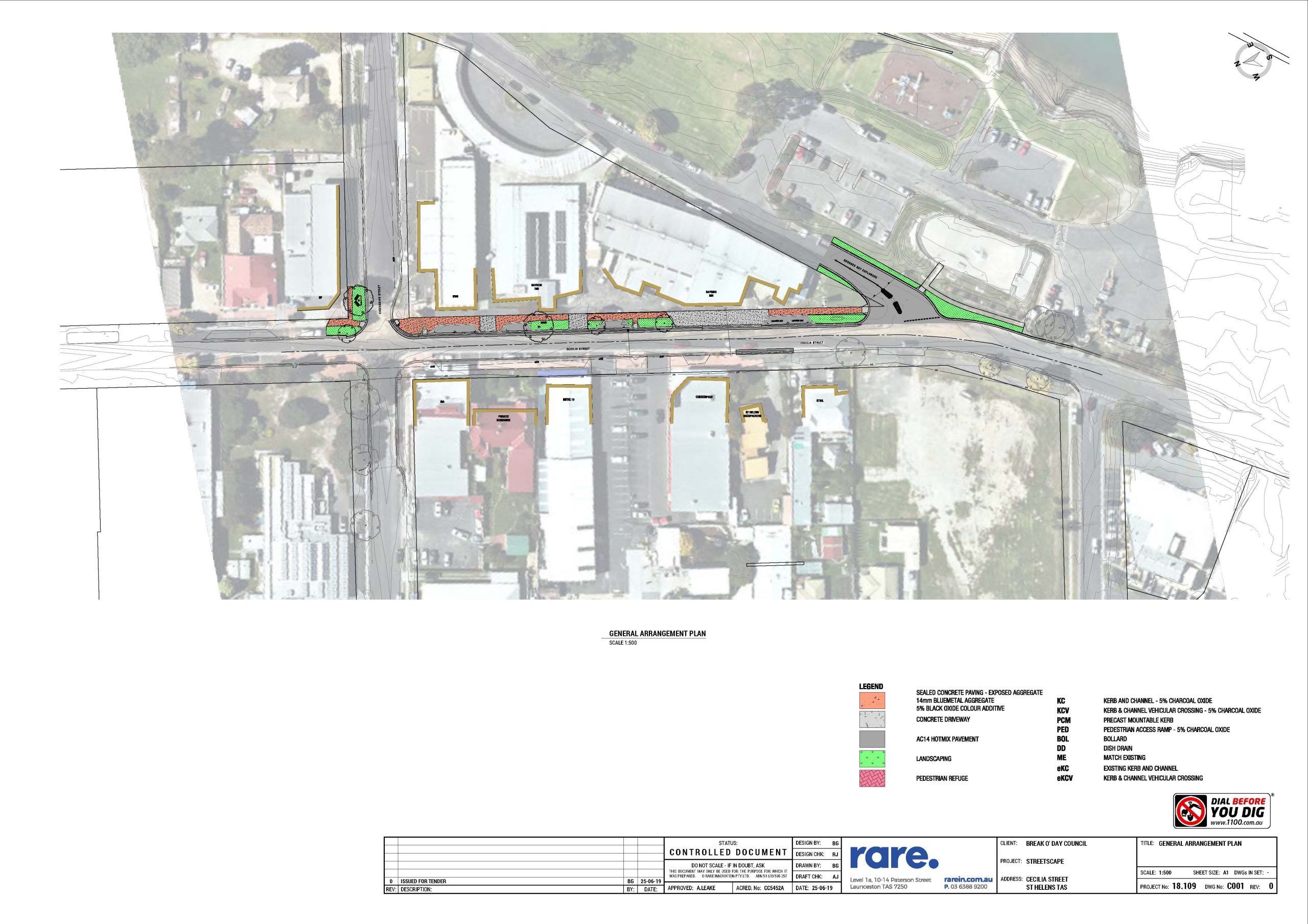 Updated:  6 February
Council will start construction of an Off-Lead Dog exercise area for St Marys.
The Dog Exercise area will be located at the St Marys Sports Complex near the Pacing track with construction commencing the week of  Monday 6 February 2023. It is anticipated that the project will be completed by the end of February.
You will be able to access the off-lead area from the St Marys Sports Complex off Harefield Road. We have included a dog poo-bag dispenser and access to water in the design.
The community of St Marys has raised the need for an off-lead dog exercise area with elected members and Council staff and we are pleased to be able to deliver this project for the St Marys community.
Once completed, the off-lead area will be officially declared and added to Council's Dog Management zones. This includes an online map with legend indicating where you can take your dog and off-lead in the Break O'Day Area.
You can find more information on our Dog Management Policy and Dog zones on our website under My Property / Dogs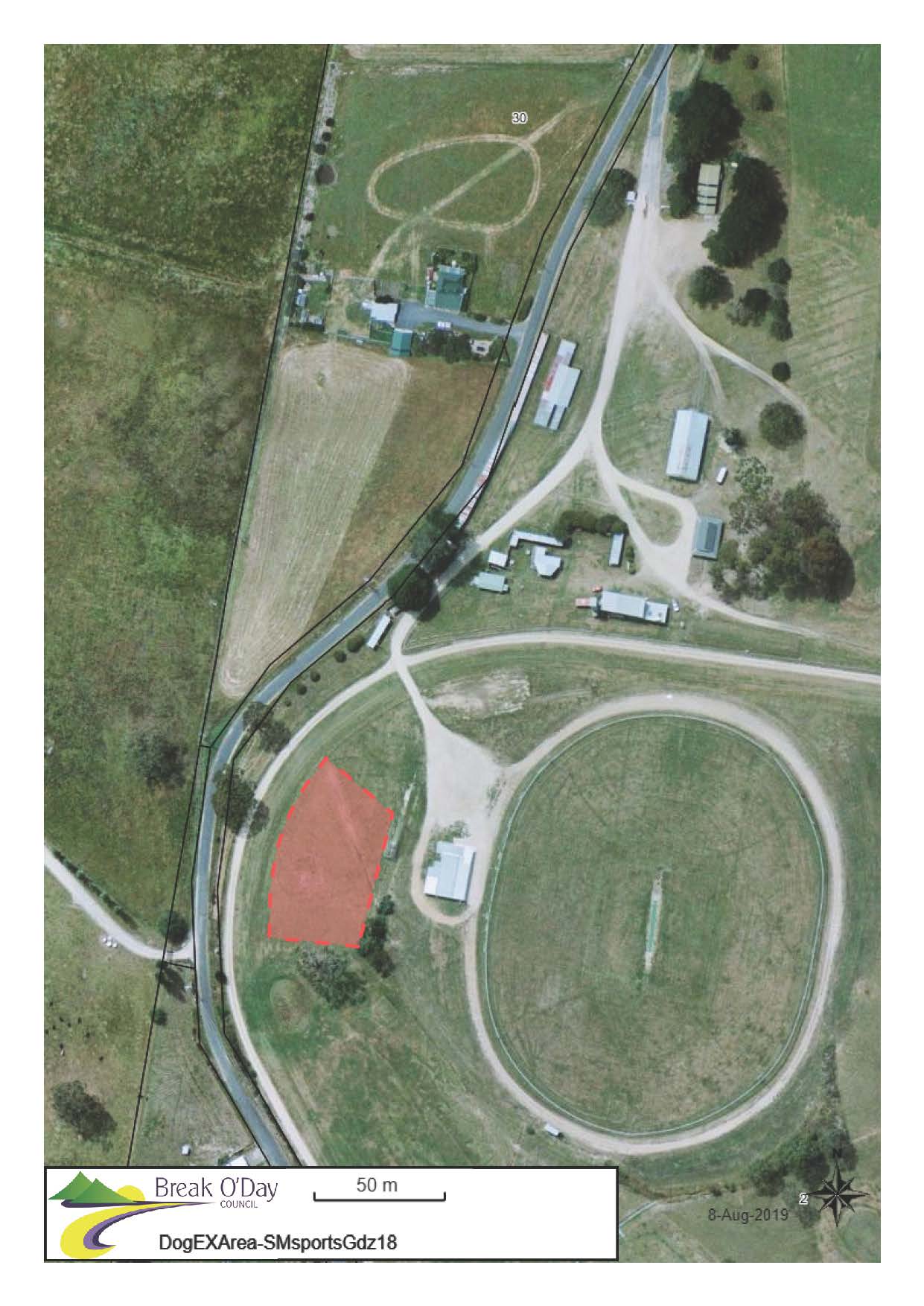 Update: 3 October 
This works project will see the construction of a footpath on the road reserve from the Tully Street through to Eagle Street. Please see map showing the location of the works.
Works for this project are anticipated to start 1 November 2022 and be completed by 15 December 2022, weather permitting.
We anticipate that these works will have minimal traffic impact but as we will be crossing some drive ways we wanted to make sure residents were aware of the works, what they would entail, and where you can find more information.
You can see the work area using the maps below or by.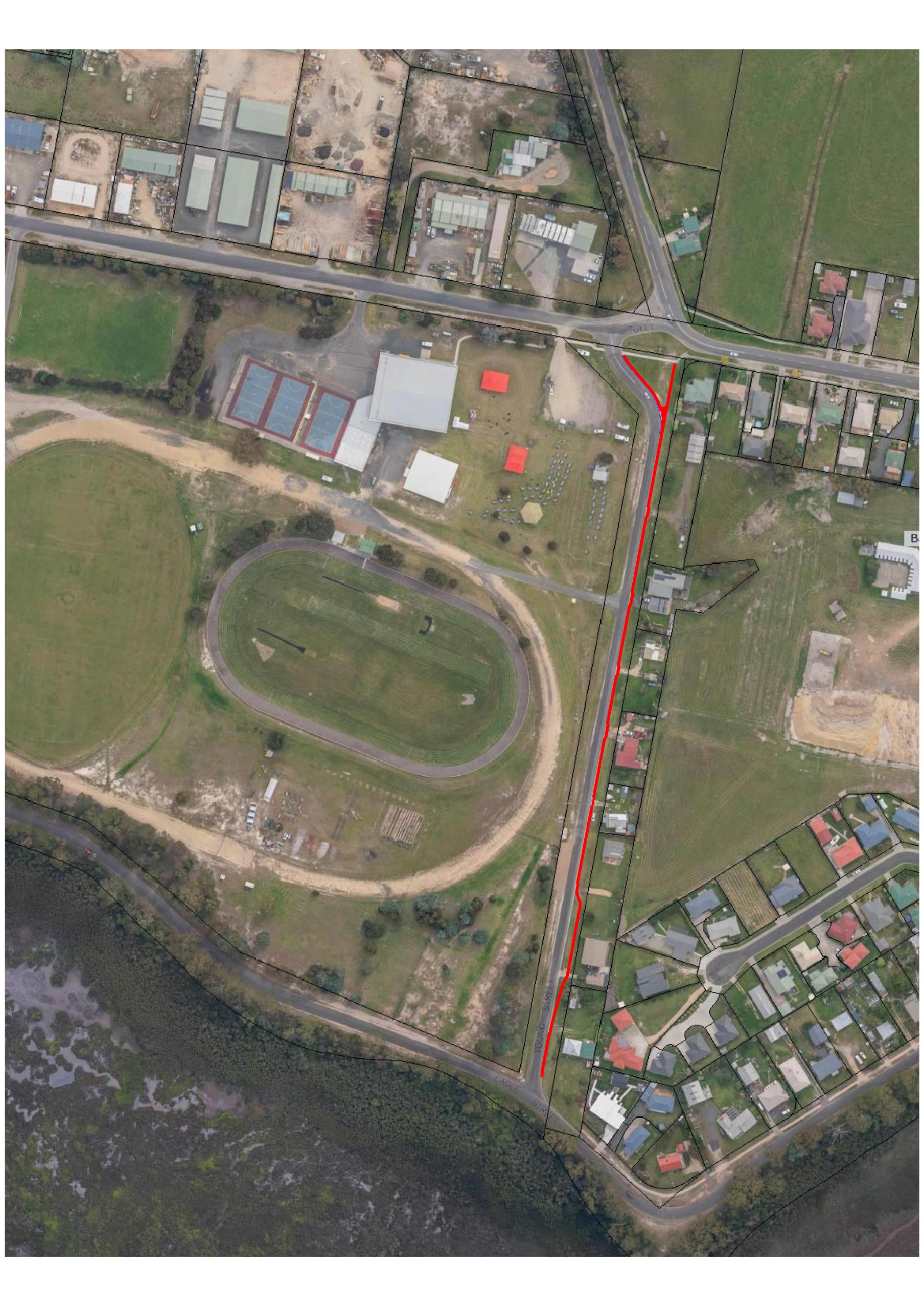 Why are we doing the works?
This project will complete the footpath work we have undertaken in Medeas Cove Esplanade and ensure there is a pedestrian link from Tully Street to Medeas Cove Esplanade.
The footpath has been delivered to increase community connection, safety and accessibility, particularly those with mobility challenges.
How will the works be delivered?
No planning permits are required for this project, this means that this project will not be formally advertised.
Footpaths and cycle ways are exempt from requiring a permit, under the Break O'Day Interim Planning Scheme 2013 – Version 17. This means that if Council footpaths and cycle way development and maintenance fits with this clause, we do not require a planning approval.
Council Works Crews will be undertaking these works in line with Australian Standards as well as in accordance with Council's policies and standards for construction, preservation of culture, heritage and our natural environment.
How can I keep updated on the project?
You can keep up to date on the progress of this project here on the website or in our monthly newsletter.
Updated:  2 February
We will be undertaking on Forest Lodge Road and St Columba Falls Road.
These works are scheduled to start on Monday 6 February 2023 and are anticipated to take four weeks to complete, weather dependent.
As St Columba Falls Road is a tourist route we have advised VICs and Tourism agencies.
Works will occur during work hours and there will still be access to the Falls however, there will be traffic lights in place and people should expect a 10min delay.
Forest Lodge Road will be closed while we undertake some major landslip works.