Customer Feedback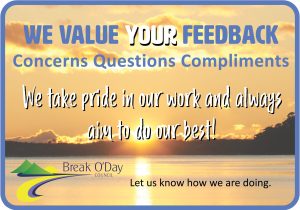 At Break O'Day Council we value your feedback.
We want to know what we are doing well and what we need to work on so that we can better serve our community.
Do you have a suggestion, want to report a problem, issue or concern or even pay us a compliment? There are many ways to share your feedback with us.
Some examples of things you might want to give feedback about include:
Council property
Council services
Decisions or actions of Council
Council practices and processes
Whatever feedback we receive we will make sure it is managed fairly, promptly, sensitively and efficiently.
There are lots of ways that you can share your thoughts with us.
Related Council Pages